Old Malta
Edit
The Malta before the Pritianesian takeover was a small island in the Mediterranean sea owned by the British. It was mainly used for transportation.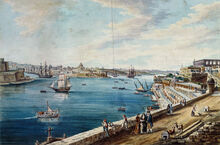 The State Of Malta
Edit
Once the Pritianesians took over, they instantly made the entire island a city, making it one of their main capitals. It was in the centre of their empire, which made it useful for trading purposes.
In the year 1815, a ship was boarded by the Malta Rebels and explosives were planted on it. The explosion could be heard from a mile away in the Southern most point.